About Us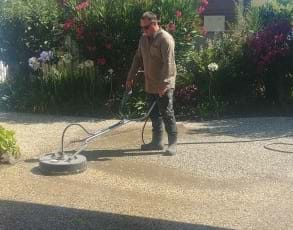 Border High Pressure Cleaning & Maintenance.
Border High Pressure Cleaning and Maintenance is a a local family owned business based in Albury–Wodonga that services the greater border region with a range of cleaning and general property maintenance services.
Our experienced staff are equipped with the knowledge, experience and equipment that allows us to provide our customers with high quality services designed to protect and maintain your property.
We provide a range of services that includes roof repairs , cleaning of external surfaces, solar panel cleaning, exterior painting and a range of other general cleaning and maintenance services.
All of our work is guaranteed and our staff are able to come to you in order to inspect your premises and provide you with a detailed quotation.
We pride ourselves on the quality of our work and our attention to detail. All of our work is guaranteed and we are fully insured so that you are protected from any changes in the original quotation we provide.
We are based in Albury / Wodonga and we service the greater border region.
We understand the extremes in weather conditions that your home or place of business can be exposed to and our services are designed so that we can respond quickly and efficiently based on your requirements.
Our focus is ensuring that your property is protected from either existing threats of damage via the sun or rain and that your property remains visually attractive and well maintained.
We clean all types of surfaces including solar panels, weatherboard and brick exteriors, driveways, roof gutters and fences.
In addition to the cleaning services we provide a variety of roofing repair and maintenance services and we also offer exterior painting services.
Our clients include owners of homes, factories, commercial buildings, retail shop fronts and rural property owners.
Our staff are able to come to your premises to complete a no obligation inspection and quotation at a time that is convenient for you.
We are your local exterior cleaning, repair and maintenance service and we would welcome your inquiry no matter how large or small the job might be.